Quick Facts
Procedure: Outpatient
Anesthesia: General
Duration of Procedure: About three hours
Initial Recovery Phase: About two weeks
Results: Apparent immediately, but continue to improve as post-op symptoms subside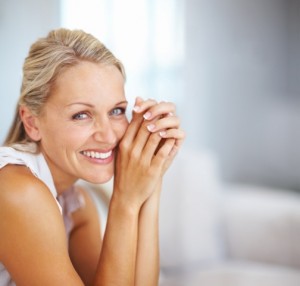 No one can stop the aging process, but undergoing facial surgery with Dr. Sean Maguire, Louisville facelift expert, can improve visible signs of facial aging, for a rejuvenated appearance. As an accomplished facial rejuvenation surgeon, Dr. Maguire delivers beautiful yet natural-looking results. To view real patients' facelift results, visit our facelift gallery page.
When Is It Time to Consider Facelift Surgery?
As individuals age, the cells produce less collagen and elastin, two proteins that are vital to healthy, elastic skin. Without an ample amount of these proteins, the skin loses its elastic quality and starts to sag. Muscle tone is lost, and fat is displaced. These developments lead to noticeable signs of facial aging, including wrinkles, deep creases, facial folds, sunken-looking areas of the face and sagging skin, including jowls.
If you suffer from these common signs of aging of the face, it might be time to consider facelift surgery.
Is Facelift Surgery Right for Me?
The best way to determine whether facelift surgery is right for you is to schedule a consultation with Dr. Maguire. That way, he can evaluate your facial structure and skin health and go over your aesthetic concerns with you before formulating a suitable treatment plan.
In general, however, suitable Louisville facelift candidates include patients who:
Are frustrated with noticeable signs of facial aging, including severe creases and folds, sagging skin, jowls and hollow-looking pockets
Are in good general health, both physically and emotionally
Are not currently pregnant
Have reasonable expectations for what facelift surgery can accomplish
Seek the procedure of their own accord
Comprehend both the potential disadvantages and advantages of the procedure
What Are the Main Approaches to Facelift Surgery?
The two main approaches to facelift surgery are:
SMAS. With this method, Dr. Maguire lifts and tightens the superficial musculoaponeurotic system (SMAS), which is the face's connective tissue layer. He also excises excess sagging skin and repositions the residual skin and other facial tissues. Using the SMAS technique, Dr. Maguire is able to improve the look of drooping cheeks, jowls and neck skin while providing smooth facial contours, without the unnatural "tight" look that inexperienced facelift surgeons often provide.
Deep-plane. This facelift technique involves lifting one continuous section of skin, fat, musculature and other tissues in order to reshape the entire face. However, most individuals are able to achieve their desired outcome with a less invasive method.
What Can I Expect During the Facelift Recovery Period?
Facelift patients should expect to take about two weeks off from work or their normal schedule. Although many of the postoperative symptoms improve within one week, it takes about two weeks for all visible symptoms to improve so that no one can tell that the patient has had any "work done."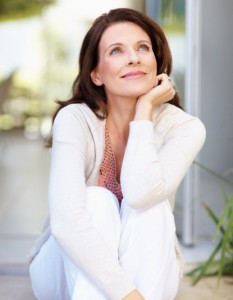 During the first few days after surgery, patients should keep their head elevated at all times, even while they sleep. The treatment area might be swollen, red or bruised, but these symptoms will improve, again within one to two weeks. Any discomfort can be alleviated by taking pain relievers as directed by Dr. Maguire and gently applying icepacks to the treatment area.
Facelift FAQs
How Soon Can I Return to Work After a Rhytidectomy?
When to return to work after a facelift depends on the type of facelift and your profession. Someone who works a desk job or remotely may be able to go back one to two weeks after a rhytidectomy. Ten days is often the ideal amount of time before returning to an office, and light makeup may cover any residual swelling and bruising at this time. You will notice more of your facelift results around four to six weeks after your surgery.
What are the Types of Facelifts?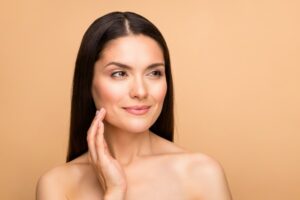 The traditional facelift reduces sagging tissues and folds in the cheeks and jawline and may address loose skin and fat deposits on the neck. Our plastic surgeon has extensive training and is board certified in Otolaryngology-Head and Neck Surgery. Dr. Maguire uses two main approaches with the facelift: A SMAS facelift improves the cheeks, jowls and neck area through the connective tissues for a youthful, natural facial appearance, and a deep-plane facelift provides a younger look using a continuous section of tissues, including the skin, fat and musculature.
A mini-facelift may be an option for moderate improvements, and this method involves a shorter scar. Specialized facelift techniques can target the upper face from your eyes to your hairline, the midface from the eyes' corners to the mouth corners and the lower face from the mouth to the chin and neck. The traditional facelift focuses on the lower two-thirds of your face, so some patients may also wish to have a brow lift to address the upper face.
Dr. Maguire will evaluate your facial structure, discuss your cosmetic concerns and develop a facelift surgical plan that addresses your unique needs.
How Long Will My Facelift Results Last?
Many patients enjoy their facelift results for ten years or longer, but this depends on your lifestyle and skincare routine. Eating a well-balanced diet, staying hydrated and protecting your skin from the sun may help you lengthen your facelift results. A great skincare regimen that keeps your face moisturized and exfoliated will help you look younger for longer.
A rhytidectomy will not stop the aging process, and it's natural for your skin to lose fullness and laxity with age. Additional non-surgical cosmetic treatments may help you maintain or enhance facelift results, such as injectables.
What is the Cost of a Facelift?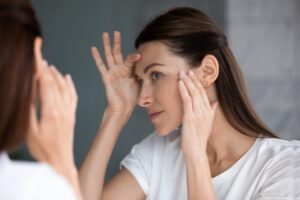 The price of a facelift depends on the extent of your procedure. A mini-facelift will cost less than a traditional facelift. Dr. Maguire and our staff will create a cost estimate for your facelift during your consultation, including the surgical facility's fees and other expenses for the procedure, recovery process and follow-up care. You can discuss your financing options with our Louisville office.
Does a Facelift Improve Neck Appearance?
A facelift with Dr. Maguire may include improving loose skin and fat on the neck, but you may want to combine a facelift and neck lift for optimal results. A youthful facial appearance after a facelift may look out of place with wrinkled, sagging neck skin, but combining the procedures can provide a younger, natural look.
Do Injectables Offer Similar Results to a Facelift?
No, injectables such as Botox and Juvéderm do not offer the same benefits as a facelift. A facelift removes excess skin and tightens the musculature for a younger appearance. Dermal fillers (Juvéderm) replace lost volume and neuromodulators (Botox) freeze muscle movements to smoothen wrinkles. These injectables may not provide similar results to a facelift, but they are an excellent way to complement your facelift results. A facelift doesn't address fine lines and wrinkles or volume loss, so following up your facial procedure with injectable treatment can give you the supple, taut appearance of your youth.
Rejuvenate Your Look
If you're thinking about a Louisville facelift and want to learn more about our facelift surgery, schedule your consultation today with Dr. Maguire by visiting the contact page or by calling our office.